"Good combination of college students in 'university' startup"
Do HBO (university of applied sciences) graduates opt for "safe options" in a large company? Working at a startup is an interesting alternative with great career opportunities! Marjolein Kuijpers and Daphne van Hoesel tell us all about it. They work at QVQ, a spin-off from Utrecht University and Unilever that works with VHHs (a VHH is a single domain antibody from the lama) that is used to conduct research. Marjolein and Daphne have both completed the Bachelor's in Biology and Medical Laboratory Research (Life Sciences) (link in Dutch) at Hogeschool Utrecht (HU) and know each other from the program.

This course is connected to the research group Innovative Testing in Life Sciences and Chemistry of the HU and the Utrecht Science Park InnovationLab Life Sciences & Chemistry.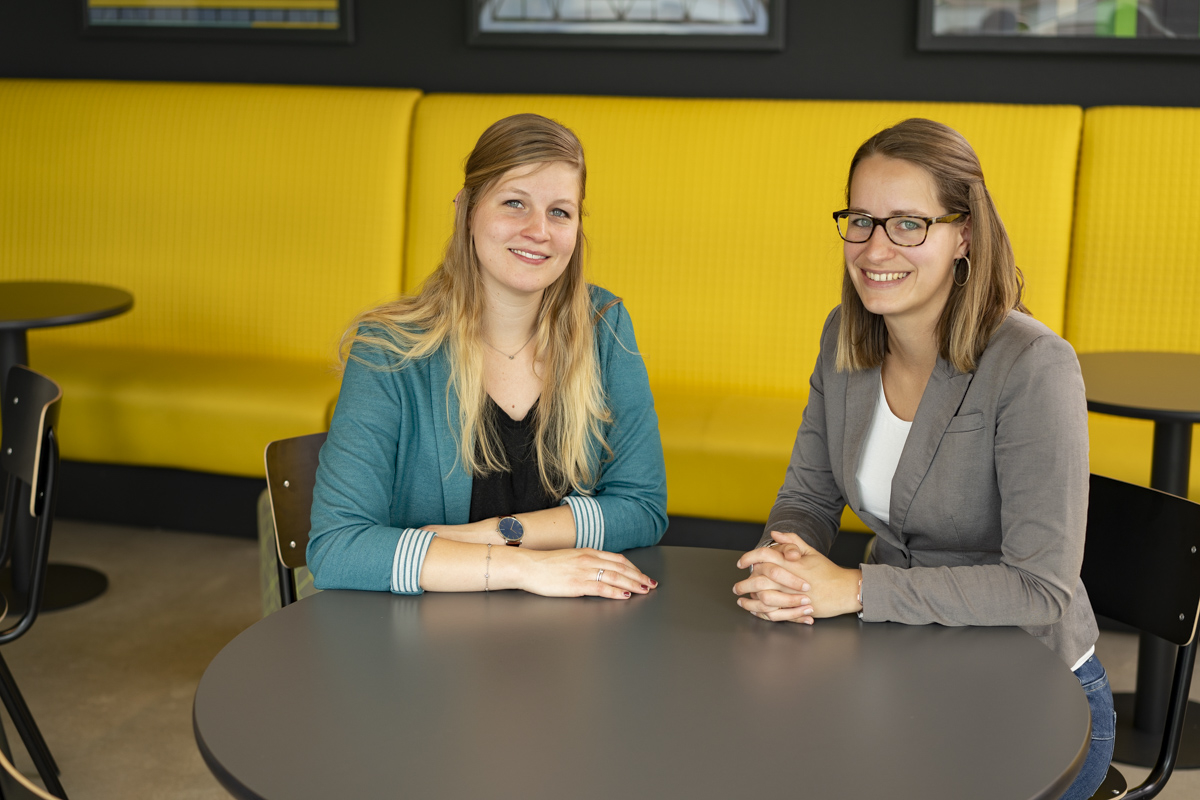 From technician to project manager
After her internship at the Academic Medical Center in Amsterdam and her graduation at QVQ, Marjolein started as a technician at the company. "Then you mainly carry out the research based on the wishes of the customer." After a few years, Marjolein has become the project manager. "Then you also have contact with the customer and you are responsible for the progress of the investigation. You keep an overview and you manage the people: technicians, but also students. You also do practical work in the lab." Daphne started at QVQ on the recommendation of Marjolein. Daphne: "Marjolein and I kept in touch after the study. She called me that they were looking for staff at QVQ and that seemed to suit me and what I wanted for the next step."
Quickly make the next step in your career
Daphne: "If I tell the friends of the program with whom I have kept in touch that I am already a project manager, then they will be surprised. After all, it is not at all common for a "just" graduate from the university to quickly move on to become a project manager." Marjolein adds: "As a professional from a university of applied sciences, you have added value through your practical experience in combination with applied theoretical knowledge. You can both be in the lab and give customers advice on the best approach. If you do a good job, you can grow into a position with more responsibility."
Temporarily expand your own business
Marjolein is currently working on an international study of colon cancer. The VHHs are used here to detect the cancer cells by linking a small magnetic particle to the VHH. Marjolein: "To do the research, we sometimes have to use equipment that we don't have in-house. The InnovationLab is really a solution for this because they have good, often expensive, equipment that is necessary for the research."
For potential partners of the InnovationLab
Marjolein: "For QVQ, the cooperation with the InnovationLab mainly means expanding our company with equipment that we do not have in-house. For example, in the Innovation Lab we can really check whether the VHHs are doing what they should do. This also means that the intensity of cooperation varies and that flexibility is very important to us." Daphne adds:" We would find it fantastic if the InnovationLab had equipment for mass spectometry in the future. It would be a nice invitation for us to use this because it provides a lot of extra information for certain studies."
About QVQ Holding BV
QVQ works with VHHs. This is the single domain antibody fragment of the lama. Due to its size (15 kDa), a VHH has many applications and can be used in various ways in areas such as imaging. QVQ offers tailor-made VHHs on request, but also has its own scientific studies.
QVQ can also produce larger amounts of VHH for use in, for example, in vivo experiments. In addition, QVQ offers directional labeling of VHHs via a so-called c-direct tag and the possibility of producing VHHs in yeast under GMP conditions, which makes clinical application possible.
Do you want to work with us just like Daphne and Marjolein?
Curious about what we can do for your organization? Consider temporarily expanding your own business, using state-of-the-art equipment and experts who know everything about it? As a student, do you want to know more about working at a start-up? We can advise you and put you in touch with the right people. Please contact Friso Smit.