"We didn't have any resources yet, but we were eager to get started. The InnovationLab offers that possibility."
Marien de Jonge and Ronald Maas, the men behind Microfuel Innovations, have not been around at the InnovationLab for long. Marien: "We started seriously last year to look at the possibilities. Last spring, we received funding from SIA for our feasibility study. This has accelerated the collaboration with the Innovation Lab."
In addition to the permanent job, starting with a start-up
Both Ronald and Marien have started Microfuel Innovations next to a permanent job. Ronald: "I work as a scientist in the vaccine process developments have a background in bioprocess technology." At Radboud UMC, Marien is head of the pediatric infectious diseases section within the medical immunology laboratory and has a background in molecular microbiology. "Marien and I know each other from the past when we worked together in the R&D department of MSD on the development of new vaccines. Our expertise is complementary and at the beginning of 2019, we set up a BV (a private limited company)."
Working on a sustainable solution for jet fuel
Microfuel Innovations focuses on the development of sustainable fuel for aircrafts. Ronald: "I obtained my PhD at Wageningen University on a study into microbial conversion of lignocellulosic waste streams into biofuels and bulk chemicals. This conversion takes place with the help of enzymes and yeasts, fungi or bacteria. This knowledge is now very useful."
A great deal of work is being done on alternatives to fossil fuels for road transport, where the main focus is on electric vehicles. In the aviation industry, these developments are somewhat slower, partly because the possibilities are more limited. For the time being, electric flying will only be possible in small aircraft on an experimental basis; for long distances, this will most probably not be possible at all due to physical limitations. The supply of biofuels is also very limited, mainly because they are made from unsustainable waste streams. The trick is therefore to develop a renewable fuel made from sustainable raw materials, which is exactly what Microfuel Innovations is working on.
InnovationLab in the picture
Contact with the InnovationLab actually came about by chance. Marien explains: "By coincidence, we saw a video by Friso Smit in which he talked about the possibilities of the InnovationLab. We immediately thought: this is it! It's a nice model: you can start by investing time, using the facilities of the lab. In addition, there are many experts in the InnovationLab who help with research. For us, this means that we can make even better use of the facilities. Robert Jan Veldman, in particular, helped us a great deal. We started a student project in the autumn of 2019. We think it is essential that we can both deliver meaningful results with that project and that we can let the new generation taste it and include it in our type of research. In this way, we are also giving something back to the Innovation Lab and the university of applied sciences.
The next steps
"In June 2019, we received a Take-off HBO grant from SIA (link in Dutch). The Take-off HBO scheme offers start-ups, which are the result of practice-based research at universities of applied sciences, the opportunity to investigate whether it is feasible to bring their idea to the market," says Ronald enthusiastically. "This is, of course, a wonderful boost for our idea and for the commitment to the InnovationLab. Marien complements: "The subsidy has really given our idea wings. We can now investigate the technical feasibility in a structured way. For the future, we are very curious about the construction of the fermentation lab within the Innovation Lab. We would like to think along with you about this."
For potential partners of the InnovationLab
Ronald's reporting: "As said: the InnovationLab offers a unique model; you can start without having to pay a financial compensation in return. For us, the combination of starting right away, the availability of suitable facilities and expertise, and assistance in finding financing were just what we needed. We are very well supported by Laura M'Rabet, who is our permanent point of contact and supports us in finding new financing opportunities."
About Microfuel Innovations
Microfuel Innovations is a startup that is currently conducting a feasibility study into the sustainable production of renewable bio-kerosene. In the feasibility study, different bacterial strains and substrates are tested to determine under which conditions the highest concentrations of bio-kerosene can be produced and whether this approach can lead to a technically and economically feasible process.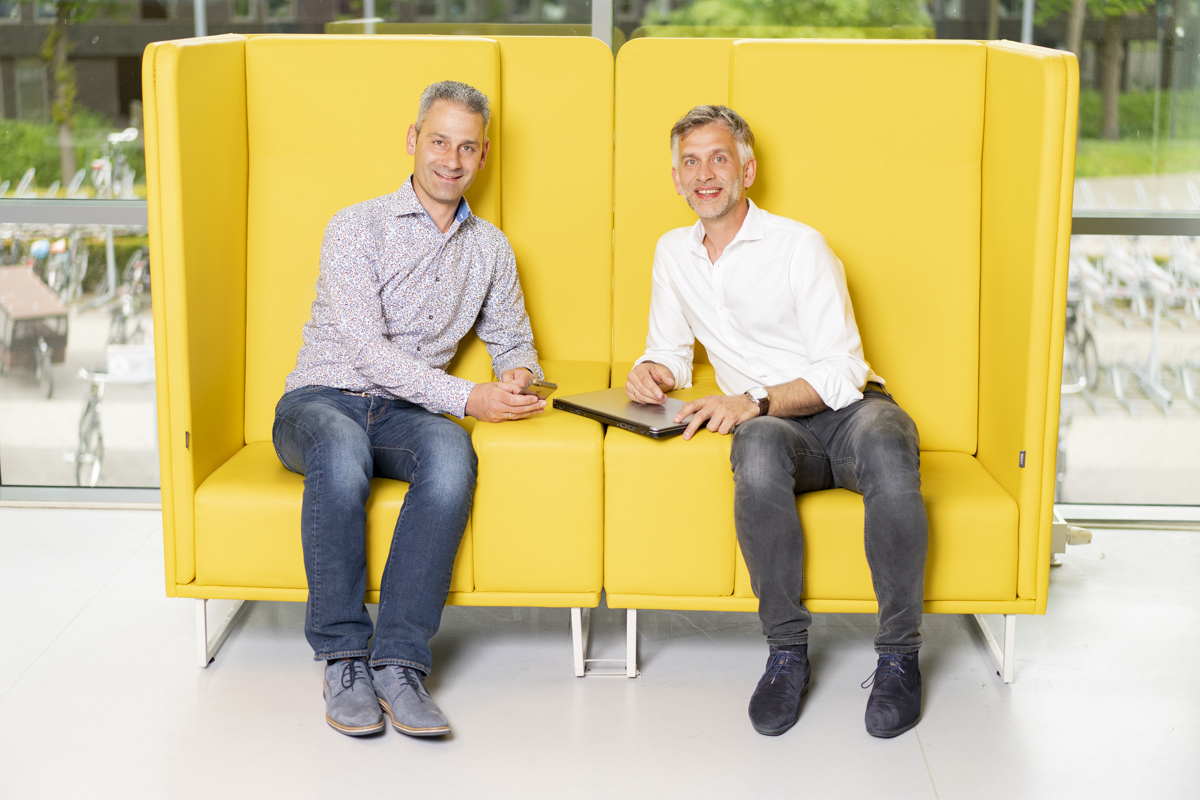 Do you want to collaborate with us, just like Marien and Ronald
Wondering what we can do for your organization? Think of the use of lab spaces and state-of-the-art equipment. Need support in finding new financing possibilities? Do you need experts who think along with you to test and further develop your idea or product? Contact Friso Smit.